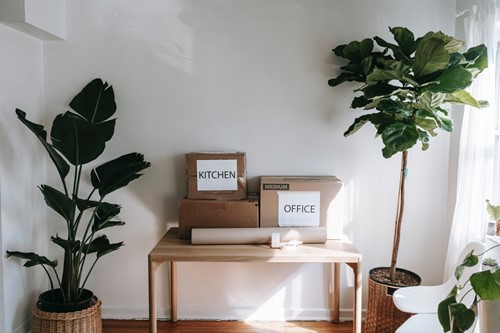 When moving with houseplants it's important to make the process as low-stress as possible, both for you and the plants. While relocating can be complicated and overwhelming, there are ways to make sure your plants will travel safely and happily to your new home. Here are some expert tips for packing and moving your houseplants.
Repot to Plastic
The first thing you can do to prepare your plants for moving is to re-pot anything that's in a heavy planter. Instead, use simple plastic nursery pots in the same size and try to keep as much of the original soil as possible. This will make your plants much lighter for the move and you can put them back in their original containers once they're settled.
Treat for Pests
You don't want to bring pests with you to a new home. Before packing up your plants, inspect and treat them for infestations or disease. Treat any existing pest issues and clean with a gentle insecticidal soap or neem oil solution as a preventative measure before the move.
Pack & Place
Different plants need different styles of packing. For example, cacti are best wrapped loosely in bubble wrap to protect you, your movers and other plants from accidental poking. Plants with lots of foliage are best wrapped like a bouquet: wrap packing paper tightly around the base of the plant and gather the leaves and branches in a cone shape. If you are moving plants by car, stand your tall plants up in the back seat rather than lay them down if possible.
Keep Air Moving
Don't forget that plants are living things. Air circulation is crucial to reducing moving stress and keeping your plants happy during the journey. If possible, leave boxes and other containers open at the top so the plants can "breathe." If the journey is going to be especially hot, this lets them benefit from the cool breeze of a car air conditioner as well.
Avoid Sun Exposure
Sun damage is one of the most common issues when moving houseplants. Long drives or simply sitting in one place for too long in the harsh sunlight can burn even the most sun-loving plants in your collection. You can use various window shade attachments if you wish, but a simple white cloth draped over the tops of the exposed plants should be enough to keep them from getting scorched by the sun's rays.
Expect Signs of Stress
No matter how perfectly you pack and move your houseplants, you are likely to notice signs of stress on the other side. Don't panic if some of your plants drop leaves or get brown on the edges. It can take a couple of weeks for a plant to get used to a new environment. Keep up with your normal care routines and your plants will flourish in your new home.