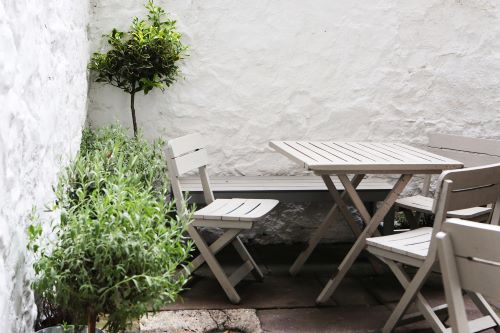 Are you struggling to find small outdoor space ideas? Luckily, even the tiniest patio or porch can become an amazing outdoor living space with the right design and planning. Here are some great ways to make the most of a small outdoor space:
Create a small container garden
You can keep a surprising amount of live plants even in the smallest garden space. Some of the best ways to create tiny container gardens are with hanging planters attached to vertical spaces. You can also use a regular rectangular window box to arrange several small plants you can easily swap out when you wish.
Build a custom deck
Even if you have a smaller yard, you always have opportunities to upgrade it. Consider creating a custom deck that can be attached to the front of your property and is customizable to the size of your yard. Several potted plants, a fire pit and a minimalist chair make an inviting yet simple outdoor living space.
Add a fire pit table
Combining functionality is key to designing small spaces, and fire pit tables are a perfect example. Many of these tables have a removable tabletop you can set aside when you want to enjoy a cozy fire. Depending on the style, you'll have room around the edges of the fire pit for food and drink.
Try Bohemian patio furniture
Bohemian design style is a great source of inspiration for designing an outdoor living room in a small patio space. With Boho furniture and accessories, you'll have an excellent blend of diverse materials and textures.
Just remember to choose items for outdoor use like weather-resistant fabric, epoxy-wicker, corrosion resistant aluminum, or teak which will withstand extreme temperatures.
Small outdoor spaces might seem restrictive, but there are plenty of options for making them functional and aesthetically pleasing. Keep these ideas in mind the next time you want to redesign your small space outside.